What Does Motor Oil Do?
Video Description: Click play on the video for a quick breakdown on motor oil's function and the importance of receiving oil changes in Omaha.
If your car is in need of an oil change, look no further than Village Pointe Toyota! Not only do we offer a variety of service coupons and incentives to save you money, but we also provide our customers with top-notch customer service. For Toyota oil change price information, please call to get details. Whether you need a regular, synthetic or diesel oil change, we have competitive prices--and again, please make sure to see our specials which may include current discounts on this service.

Routine oil changes are one of the most critical parts of maintaining your car. At our Omaha dealership, we understand that most of our customers are pressed for time, which is why we invite them to fill out an online appointment form, so we can get to know a little about them and their vehicles before they arrive at our Toyota dealership.
Why Get Your Oil Changed?
Over time, oil becomes worn out and loses its ability to properly lubricate your engine's mechanical parts. Fresh oil ensures that your engine will get the lubrication that it needs to continue functioning properly.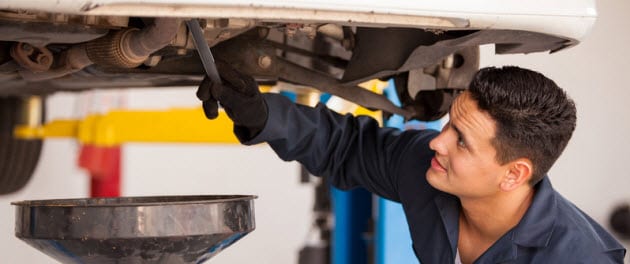 Replacing your oil filter is also very important when it comes to prolonging the life of your engine. With every mile you drive, filters sift through dirt and debris and prevent them from entering your motor. Like oil, filters become worn out and lose their ability to do their job right. If you fail to change your filter, it will eventually become clogged, which will ultimately lead to engine damage. This is why it's essential that you get regular oil and filter changes in Omaha to ensure your vehicle runs smoothly and efficiently.
Why Choose Us for Toyota Oil Change Service?
Village Pointe Toyota offers great customer service and all the conveniences of having a state-of-the-art onsite service center. We take pride in having a great staff of service professionals, who are highly trained and work hard to give your vehicle high quality care.
So if you're looking up, "where to get an oil change near me," we hope you'll choose us! If you're not sure when you should get your regular oil changes, please visit us at Village Pointe Toyota and one of our friendly associates will help you set up a detailed maintenance schedule that includes all the services your vehicle needs. Contact us or simply drop by to get details about Toyota oil change prices. We look forward to serving you!

Service Hours
Monday

7:00AM TO 6:00PM

Tuesday

7:00AM TO 6:00PM

Wednesday

7:00AM TO 6:00PM

Thursday

7:00AM TO 6:00PM

Friday

7:00AM TO 6:00PM

Saturday

7:00AM TO 5:00PM

Sunday

Closed