Video: Learn More About Your Vehicle's Brakes
Get the breakdown on brake service inside our short video. Learn the warning signs that your vehicle is ready for a brake inspection and get tips on how to keep your brakes healthy longer.
Whether you're looking for the best brake pads for towing or just the best place to buy brake pads for your specific Toyota model, our shop can assist you in finding what you need. Learn about signs of brake failure below and visit us soon to get information about Toyota brake replacement prices. We have competitive rates, top-quality products and a friendly staff to assist you.

WHEN TO CHANGE TOYOTA BRAKE PADS
At our brake shop in Omaha, this is a frequently asked question. However, the answer is not as straight forward as one might think. The fact is that the service interval for brake pad replacement differs from driver to driver. If you travel often and run into traffic frequently, admittedly brake hard or often engage in more strenuous driving duties like towing, your brake pads may need to be changed much sooner than they would for other drivers.
At what mm thickness should brake pads be replaced?
You should consider changing them at around 3mm. Yes, some might say that there is still some time left at this point; however, depending on your driving habits, the pads could get down to 2mm or lower before you know it, which presents a greater chance of rotor damage.
I hear a high-pitched squeal when I brake.
This sound, produced by the brake wear indicator, is triggered at close to 2.5mm of pad depth. It's an audible warning signal that the pads are in need of replacement, at which point our Omaha brake repair center is ready to assist you.
Are OEM Toyota brake pads really better than aftermarket pads?
In many cases, cheap brake pads from aftermarket sources do not provide the quality, longevity and same level of rust resistance as OEM Toyota brake pads. We not only use genuine manufacturer parts in our shop, but also have OEM Toyota brake pads available for order at an affordable price.
WHEN TO CHANGE BRAKE ROTORS
Rotor repair and replacement is an important aspect of Toyota brake service, and there are several symptoms which hint at problems with rotor discs.
I feel vibration when braking.
This is often caused by warped rotors. If you're experiencing this, bring your Toyota to our brake shop in Omaha.
My car pulls to one side when I brake.
This is another common sign that the rotors might be warped, or that there is a problem with a stuck caliper. Pulling could also simply mean that the brake pads are in bad condition, as well.
I hear grinding when I hit the brake pedal.
This means your brake pads have worn too thin, and the rotor disc is now scraping against the caliper. Grinding is also sometimes caused when a foreign object is stuck in the caliper.
TOYOTA BRAKE FLUID FLUSH SERVICE INTERVAL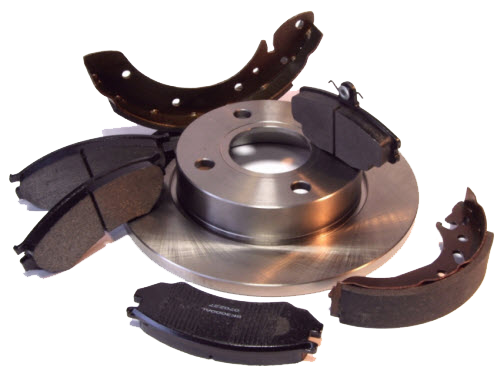 We're often asked how often to change the brake fluid in a Toyota, and again, the time interval varies. It can be anywhere from every two years to every three years depending on driver habits and the vehicle. However, the best way to tell is to have your brake fluid inspected once a year in order to observe its condition.
Brake fluid is one of the most overlooked parts of the braking system, yet it serves a very complex and important job. It's the driving force that helps push braking components together to bring your vehicle to a stop and it's also what helps prevent rust creation in the braking system.
Where's a good brake pad replacement shop near me?
Right here in Village Pointe! Our Omaha brake repair center is open to Toyota drivers as well as owners of all vehicle makes and models. If you need Toyota Camry, Corolla, RAV4 or Tacoma brake pads, our team can handle your brake change service. You can also order OEM Toyota brakes on our site if you're searching for parts.
View Village Pointe Toyota's latest specials to see if we have any new rear and front brake pad replacement coupons or other brake service specials you may be interested in.
Service Hours
Monday

7:00AM TO 6:00PM

Tuesday

7:00AM TO 6:00PM

Wednesday

7:00AM TO 6:00PM

Thursday

7:00AM TO 6:00PM

Friday

7:00AM TO 6:00PM

Saturday

7:00AM TO 5:00PM

Sunday

Closed