Toyota Certified Used Vehicles
The best new cars make the best used cars.
It stands to reason that the better a product is made the longer it will last, which makes getting a high-quality, low mileage Toyota at a great price a very savvy move.
Toyota's timeless commitment to quality, innovation and durability is the foundation upon which the Toyota Certified Used Vehicles (TCUV) program launched in 1996. With each passing year the TCUV program has gained momentum - totaling over three million sales and counting.
Along with industry-leading heritage comes another advantage; an exceptional coverage policy. With a 12-month/12,000-mile Limited Comprehensive Warranty
[1] a 7-year/100,000-mile Limited Powertrain Warranty
[2] plus one full year of Roadside Assistance
[3] , honored at more that 1,400 Toyota dealers in the U.S. and Canada, we've got you covered.

Certification

Our certification process keeps you in mind every step of the way. The TCUV standards apply from the time a Toyota dealer acquires the vehicle through to the final sale. Each candidate for certification can be a current model year vehicle, up to and including six year old models, with 85,000 miles or less on the odometer. Prior to the rigorous 160-point inspection every certified Toyota goes through, a CARFAX vehicle history report is reviewed to ensure that only the best of the best vehicles receive the Toyota Certified Seal of approval.


Now how's that for peace of mind?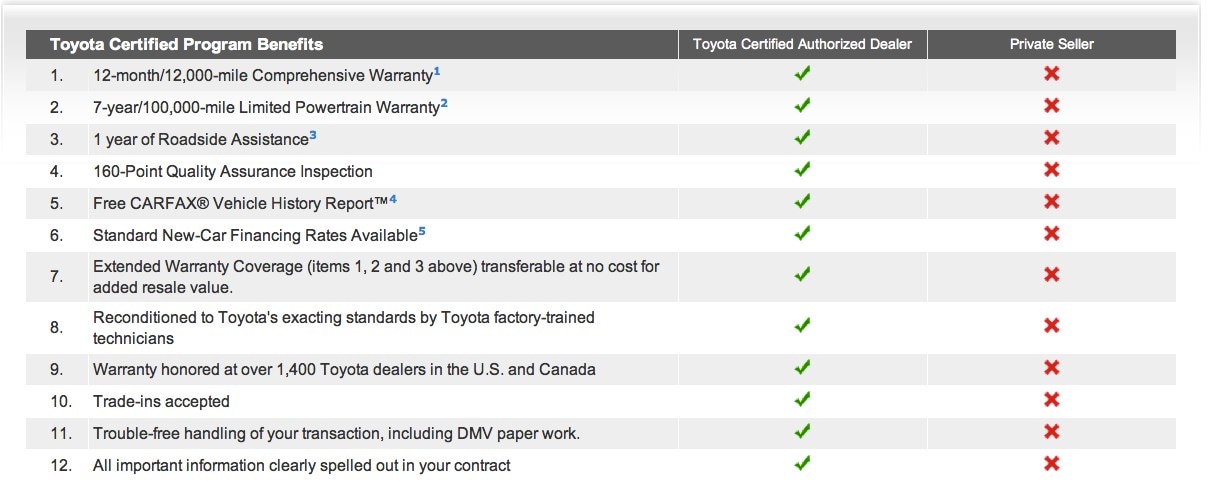 Legal Disclaimers: [1] Whichever comes first from date of Toyota Certified Used Vehicle purchase. The Limited Comprehensive Warranty covers any repair or replacement of components which fail under normal use due to defect in materials or workmanship. (Program not available in Hawaii.) [2] Whichever comes first from original date of first use when sold as new. See your Toyota Certified Used Vehicles dealer for warranty details. Program not available in Hawaii. For AL, FL, GA, NC & SC, warranty coverage differs in the following ways: 7-year or 100,000-mile Toyota Certified Limited Powertrain Warranty coverage begins on January 1st of the vehicle's model year and zero (0) odometer miles and expires at the earlier of seven years or 100,000 odometer miles. [3] From date of Toyota Certified Used Vehicle purchase. Covers most services, including flat tires, lockout service, jump starts, fuel delivery up to 3 gallons and towing for mechanical breakdown or collision recovery to the nearest Toyota dealership. Services provided exclude any parts required. Coverage not available in Mexico. See Certified Warranty Supplement for warranty details.[4] Beginning December 1, 2005 CARFAX Vehicle History Reports? are a required part of every Toyota Certified Used Vehicle. See your local dealer for details.[5] Rates mentioned are for standard new car rates, and do not include new car specials or subvented rates. Not all buyers will qualify. Financing available through Toyota Financial Services for qualified buyers only.