Benefits of Cabin Air Filter Replacement
The air filter in your car's cabin has the vital task of removing impurities from the air inside your vehicle. The cabin air filter removes particles and toxins that you can't see but degrade the surrounding air quality. Mold spores, dust, dirt, pollen, smoke, and smog are just a few particles that the cabin air filter removes from the car. If the filter gets coated with pollutants, it won't filter the air as effectively. Both you and your vehicle may feel the results.
For humans, a clogged cabin air filter can irritate the airways and nasal passages. You may notice allergy-like symptoms, especially with the windows rolled up, and you might smell a bad odor when the heating, ventilation, and air conditioning (AC) system is running. The HVAC system might also start working harder than usual to keep the cabin temperature controlled, which can cause the parts in the HVAC system to wear out more quickly.
How Often Should I Replace My Cabin Air Filter?

There are several ways to determine when it's time to replace the cabin air filter. One is mileage. In general, the air filter should be swapped out every 12,000 or 13,000 miles. If you frequently drive in dusty, smoggy, or smoky conditions, or if you live in an excessively dry or damp climate, you may need to have the cabin air filter changed more often. Symptoms of a clogged air filter, such as bad smells in the cabin or consistently foggy windows, may also mean it's time for a new filter.
Certified Automotive Technicians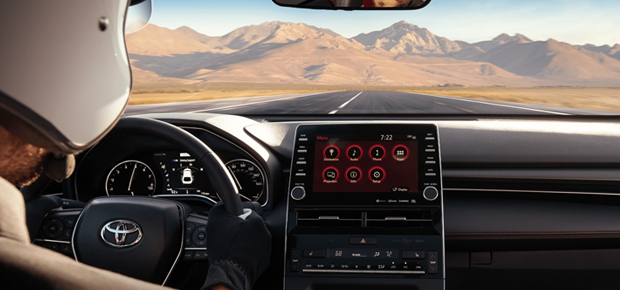 When your car needs its cabin air filter changed, we welcome you to contact our service department for assistance. Our service team includes professionally trained and certified automotive mechanics adept at handling cabin air filter replacements. Our technicians will gladly service your vehicle, even if you don't drive a Toyota. The team is experienced in replacing cabin air filters on various makes and models, and they'll happily handle your service needs.
Only Quality Automotive Parts
When you take your car to us for service, it will leave you looking and performing like new. We only use the highest quality replacement parts available, which are components made directly by the original manufacturer. OEM parts provide your car with consistent, predictable, and reliable parts.
To make an appointment for a cabin air filter replacement, contact our service center today.
Hours
Monday

8:30AM TO 8:00PM

Tuesday

8:30AM TO 8:00PM

Wednesday

8:30AM TO 8:00PM

Thursday

8:30AM TO 8:00PM

Friday

8:30AM TO 6:00PM

Saturday

8:30AM TO 6:00PM

Sunday

Closed