From starting up the engine to supplying power to the various lights and electronics, your car's battery has a lot of responsibilities, yet it often doesn't get much thought until it stops working! While caring for your Toyota battery might not be high on your list of priorities right now, you're sure to find there are plenty of benefits associated with receiving routine battery service in Omaha.
The Advantages of Battery Service
Battery service is an essential part of Toyota maintenance, one that ensures your battery is performing correctly. Without it, you may not notice that there's a problem with your battery until it's too late! In fact, if it seems like you are replacing your Toyota battery too often, there's a good possibility you aren't receiving service as often as you need to.
During battery service in Omaha, one of our Toyota specialists will:
Test the charge and determine remaining car battery life
Check for corrosion and clean the battery
Apply anti-corrosion pads
Treat the battery with protectant
All of this ensures that your battery is happy, healthy and ready for the road ahead. Be sure to print out our battery service coupon before you come in for your appointment!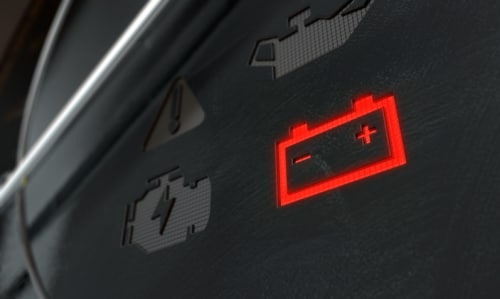 Signs You Need a New Car Battery
Whether you've been driving for five years or 25 years, you've probably dealt with a dead battery at one point or another. While batteries always seem to die out of nowhere, there are often several symptoms of battery failure to look out for.
Some of the most common signs you need a new car battery include:
Battery light has appeared in the driver information center
Engine is slow to turn over
Ignition makes a clicking sound but won't start
Battery is leaking or corroded around the terminals
Headlights and cabin lights flicker or appear dim
Battery case is bloated or misshapen
Whenever you experience any of the above, be sure to schedule an appointment for battery replacement near me as soon as possible! We'll get you fitted with a new Toyota battery and back on the road in no time at all!
Tips & Tricks to Make Your Battery Last
A new Toyota battery should last anywhere from three to six years, so if you're experiencing premature battery failure, it's important to take a good hard look at some of your driving behaviors. Bad habits like leaving your lights on overnight or keeping power adapters plugged in can cause massive draining or even sudden death overnight.
However, simple driving mistakes like taking too short of drives or idling can also be devastating to your car battery life. Luckily, there are simple remedies to each of these problems! Make sure all of your commutes are at least 20 minutes long-this gives your battery enough time to fully recharge after it starts. Additionally, limit your idling time to five minutes or less whenever possible.