Review the 2015 Corolla from Toyota Dealer in Omaha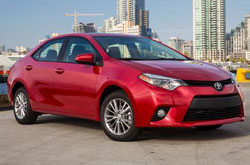 Long appreciated for its thrifty fuel usage, reliability, longevity and overall utility, the Corolla's redesign last year added a stylish look and some high-tech toys, making it an even more appealing choice for singles, small families, students and retirees on a budget. If you're looking at economy cars, be sure to check out the 2015 Toyota Corolla in Omaha; you may be surprised by the many available comfort and convenience features you'll find. In Edmunds' 2015 Toyota Corolla review, they noted the Corolla's "newfound sense of style along with widely available niceties like a user-friendly touchscreen and automatic climate control." Even the base 2015 Corolla offers Bluetooth hands-free calling.
When you compare Corolla to competing economy cars, you begin to see Corolla's real value. The 2015 Toyota Corolla has better government safety ratings, better fuel economy and better stopping distances than the 2015 Ford Fiesta. The Corolla also has more passenger and cargo room than a Fiesta, and will better retain its value. Go ahead and check out the independently produced Dare to Compare feature you'll find as you scroll through this 2015 Toyota Corolla review. Use this car comparison tool to instantly view match-ups between the Corolla and a score of leading competitors. You might be surprised to learn that the new Corolla has 5.2 inches more rear legroom than the new Honda Civic. Your back-seat passengers are sure to appreciate such a difference!
Just because you're looking for a small car doesn't mean you should expect less utility. We already mentioned passenger and cargo room comparisons, but beyond that, the Corolla has standard split-folding rear seats, so carrying more than one friend along with skis or fishing rods is doable. If you purchased one of the many Honda Civic models with a single-folding rear seat, that extra friend may not be able to ride along on your fishing or cross-country skiing outing.
The 2015 Toyota Corolla in Omaha is no flash in the pan. The reason it has been among the bestselling compact sedans in the U.S. for decades is because Toyota delivers what people want.�