Village Pointe Toyota Previews the New Yaris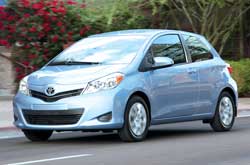 Simple yet reliable, the 2014 Toyota Yaris is just the right vehicle for buyers in the market for a subcompact car with sufficient amenities. Each Yaris model features a collection of dependable safety functions and a number of quality technological components such as Bluetooth connectivity, cruise control and a six-speaker sound system. The interior layout has also been optimized to seat up to five passengers and offers ample leg and headroom. In addition to these highlights, the Yaris sports a fuel-efficient four-cylinder engine and two strong transmission options, producing optimal gas mileage. Learn more about the 2014 Toyota Yaris in Omaha by reading our short summary below; then scroll down for further information on its specifications.
Complete with a large backseat that can fit average-sized adults comfortably and 15.6 cubic feet of cargo space behind the backseat, the Toyota Yaris' interior contains plenty of room for a vehicle its size. A range of available features extend the subcompact car's appeal even further and give Omaha buyers a variety of options to increase their driving experience. Some of these standout amenities, noted in several 2014 Toyota Yaris models, include power door locks, Bluetooth connectivity, a six-speaker stereo system with HD radio, keyless entry, cruise control and steering-wheel-mounted audio controls. High-end safety functions, such as stability control, antilock brakes, front/side airbags and traction control, are also offered, keeping drivers and passengers secure.
Powered by a 1.5L four-cylinder engine, producing 106 horsepower and 103 lb.-ft. of torque, the 2014 Yaris receives great EPA ratings. Drivers can choose between a five-speed manual and a four-speed automatic transmission to support the powertrain, but if you want fast acceleration and fantastic fuel economy, we suggest going with the four-speed automatic - it accelerates from zero to 60 mph in 9.3 seconds. Each Yaris model also comes solely with a front-wheel-drive configuration.