Village Pointe Toyota 's 2014 FJ Cruiser Review and Research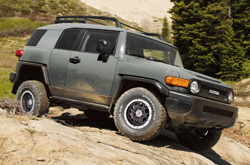 An off-roading vehicle with style, the Toyota FJ Cruiser returns one more time for 2014 before taking its final bow and going into retirement. The latest FJ Cruiser model remains relatively the same as its 2013 counterpart, but it does introduce a new Trail Teams Ultimate Edition trim level to commemorate its last year in production. Complete with a heavy-duty V-6 powertrain, three configuration options and a range of components that cater to its off-road capabilities, the five-passenger Cruiser is a great vehicle for buyers who live an active lifestyle. Read our brief overview below to learn additional details about the 2014 Toyota FJ Cruiser in Omaha, then continue down to discover more information.
The Toyota FJ Cruiser may be retiring after this model year, but that doesn't mean it can't go out with a bang! With the introduction of the new Trail Teams Ultimate Edition, the Cruiser plans to do just that. Each Ultimate Edition model features a Heritage Blue paint job, a one-of-a-kind TRD suspension with remote reservoirs, a revised front skid plate, all-terrain tires and 16-inch bead-lock wheels. Further enhancing the Ultimate Edition's appeal is a collection of luxurious features, typically available on the Convenience and Upgrade packages. A mere 2,500 models of the Ultimate Edition will be built, so Omaha buyers need to act fast if they want one of these specially made Cruisers.

Delivering 260 horsepower and 271 lb.-ft. of torque, the FJ Cruiser's 4.0L V-6 engine provides more than enough force to climb over tough terrain and glide down the highway. It's available in three different configurations, mated with strong transmissions, which play a lead role in its off-roading capabilities. These setups, noted in several 2014 Toyota FJ Cruiser reviews, include rear wheel drive with a five speed automatic transmission, part-time 4WD with a five-speed automatic and full-time 4WD with a five-speed automatic. Finished off with a 4,700-pound towing capacity, the 2014 FJ Cruiser is a versatile SUV with standout performance.