Omaha, NE Prius Research on the 2013 Toyota Model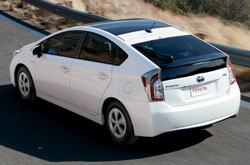 Research from Old Mill Toyota on the 2013 Toyota Prius can be viewed below the video. It's hard to find the hard facts all in one spot. Old Mill Toyota arranges these reviews so you have the best resources from the best writers. To make educated decisions when it comes to your next Toyota Prius purchase, don't guess! Each article is packed with data and Prius features in way that's easy to understand. Get started by watching the video below or move on to the full review.
360 Degree Tour of the Toyota Prius Sedan
Compare the Toyota Prius's Specs & Features
Check out the 2013 Toyota Prius side-by-side with versus similar autos like the 2013 Honda Insight Hybrid, Chevrolet Volt, Nissan Leaf and the Ford Fusion Hybrid, and you will realize that the 2013 Prius out does those vehicles in loads areas. Browse the reasons see why!
2013 Toyota Prius MSRP: $23,215
2013 Toyota Prius Body Style(s): Sedan
2013 Toyota Prius MPG: 51 city / 48 highway
2013 Toyota Prius Seats: 5 passengers
2013 Toyota Prius 0-60 MPH in 10.1 seconds
2013 Toyota Prius Colors: Blizzard Pearl, Barcelona Red, Nautical Blue, etc...
2013 Toyota Prius Cargo Space: 21.6 cubic feet
Toyota Prius: Trim Levels, Features & More
The 2013 Prius Was Designed With Your Safety in Mind
Our Toyota Service Center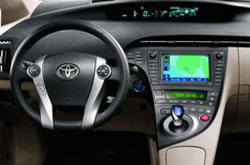 Toyota drivers don't have to travel far to find spectacular auto repair technicians and real OEM made parts. Our Omaha, NE area Toyota repair facility is conveniently based by a number of cities and we provide a free warranty on each service. To keep your Toyota in tiptop physical shape, put it in the hands of Old Mill Toyota's auto repair wizards. From more time consuming tasks like shock and strut repair to less time consuming jobs like tire rotation and replacement and simple common filter and oil changes, our Toyota repair squad do it all. Make a sensible choice when deciding on a shop to have your Toyota Prius repaired, and keep in mind: At Old Mill Toyota you can reckon on getting personalized service and cheap prices on Omaha, NE car repair. Find the latest service coupons at Old Mill Toyota by clicking underneath this sentence!
You can contact our service center 24-7 using our online form