Old Mill Toyota Previews the New FJ Cruiser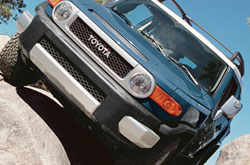 Make the most out of your next FJ Cruiser purchase by reading a review of the 2013 Toyota FJ Cruiser before you buy. As the foremost Toyota dealer in Omaha it is our mission to furnish our customers with Toyota reviews transcribed by the most skillful Toyota writers in the world. Every article comes packed with accessible data, specs and research - just what you need to make familiar decisions on your next Toyota FJ Cruiser purchase. Watch the video below or skip it to get the FJ Cruiser review.
2013 Toyota FJ Cruiser Features Video
Prominent Specs for the Toyota FJ Cruiser
By examining the 2013 Toyota FJ Cruiser next to the 2013 Dodge Durango, Ford Edge, Nissan Xterra, Chevrolet Tahoe and the Jeep Wrangler, and you can spot that the FJ Cruiser outperforms those autos in quite a few zones. Look over the hightlights below.
2013 Toyota FJ Cruiser Body Style(s): Midsize SUV
2013 Toyota FJ Cruiser 0-60 MPH in 7.2 seconds
2013 Toyota FJ Cruiser Seats: 5 passengers
2013 Toyota FJ Cruiser Cargo Space: 27.9 cubic feet
2013 Toyota FJ Cruiser Colors: Magma, Calvary Blue, Army Green, etc...
2013 Toyota FJ Cruiser MSRP: $26,880
2013 Toyota FJ Cruiser MPG: 16 city / 20 highway
Get cash for your trade when you purchase a Toyota FJ Cruiser
Toyota FJ Cruiser: Trim Levels, Features & More
Learn About the 2013 FJ Cruiser's Engine & Powertrain
Toyota FJ Cruiser Service Info for Omaha, NE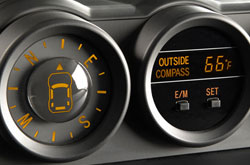 Our Toyota dealership in Omaha is anchored near a number of nearby cities! So, you're a brief spin away from attaining trustworthy OEM parts and work from Toyota technicians! We also protect you with a gratis warranty on repairs! When you bring your FJ Cruiser to our auto repair facility in Omaha, you'll get topnotch service from our esteemed mechanics. We can get a handle on a simple job as an oil change, or deliver quality intricate Toyota FJ Cruiser service and repairs like strut and shock repairs, timing belt replacements and FJ Cruiser transmission rebuilds. Old Mill Toyota is your choice in Omaha for fast, professional Toyota FJ Cruiser repairs and regularly scheduled maintenance. See the link underneath this text? That's your boulevard to savings! All you have to do is click to see incredible coupon specials.
You can contact our service center 24-7 using our online form