Bang! Whoosh! Your morning drive to work has just been interrupted by a tire blowout. Now, instead of sitting in your comfortable, air-conditioned office enjoying a cup of coffee, you have to stand out in the heat waiting for a tow truck---not an ideal situation to be in by any means.
Luckily, in most cases, blowouts and other tire problems are easily preventable. Taking the time to check that tires are properly inflated and receiving recommended tire service in Omaha are both key in ensuring your Toyota tires live long and happy lives. To learn more, read our handy tire care tips below!
Make Tire Service a Top Priority
Like any other part on your vehicle, tires are susceptible to wear and tear over time. However, there's a very big difference between natural wear and wear caused by lack of servicing. In fact, skipping tire service can cut thousands of miles from your tires' lifespans, meaning you're spending a lot more while getting a lot less.
How Often to Rotate Tires:
Tire rotation and balance is the best way to ensure your tires are wearing correctly! Toyota recommends this service be done every 5,000-7,500 miles, unless otherwise stated by your owner's manual.
When to Get Your Wheel Alignment Checked:
It's a good idea to have your wheel alignment looked at every year to make sure everything is functioning as it should be. However, if you experience any ride quality changes, including vibrations or vehicle pulling, it's recommended that you schedule an appointment for an alignment check right away.
Never Drive on Worn or Damaged Tires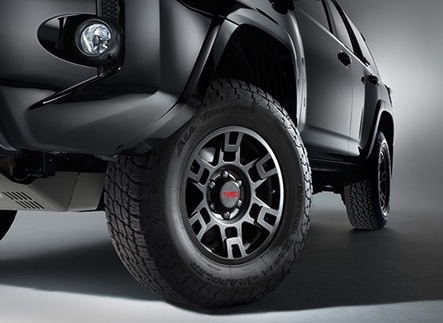 Most tire problems can easily be felt in the cabin or seen on the tire's surface; either way, there's usually an obvious indicator that it's time for tire repair in Omaha! Some common signs of tire damage include:
Tire pressure monitoring system light turns on
Sharp object can be seen protruding from tire
Cracks or cuts appear in the sidewall
Sidewall has one or more bubbles
Low tread or bald spots
Damaged tires carry a variety of risks-including hydroplaning, loss of stopping power and even blowout-so if you experience any of the above, it's important to stop driving until your tires have been inspected at our tire shop in Omaha. We have all the tools to make a quick tire repair or replacement, getting you back on the road in no time!
Visit Us to Find Toyota Tires for Sale
When it's time for new tires in Omaha, don't bother with Discount Tires, Pepboys or any of the other chain stores! Visit our tire shop near me for the highest quality selection of new tires, including top brands like Dunlop tires, Michelin tires, Goodyear tires and more.
We also offer plenty of Toyota tire specials to help you save on your big purchase. Call or stop by Village Pointe Toyota today to learn more!