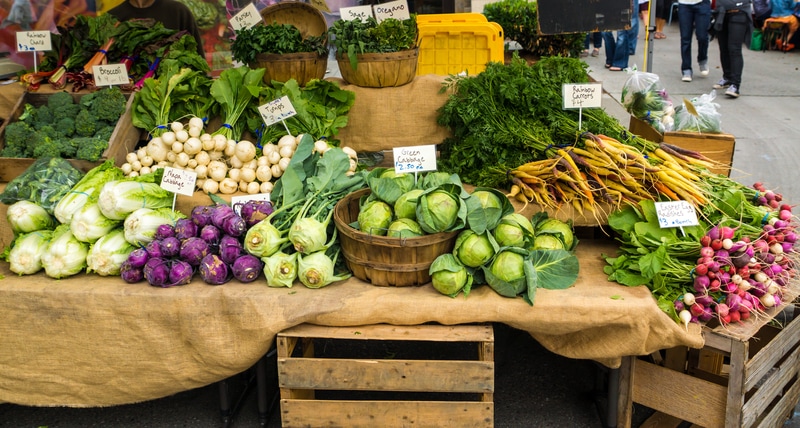 ​An Omaha community staple returns for its 25th year, bringing a bevy of fresh produce and meat, delectable baked goods and unique crafts that locals can shop for at various locations downtown. Find out what you need to know about this year's Omaha Farmers Market below.
What Items Are Sold at the Farmers Market?
According to the market's website, "promoting local food is an Omaha tradition." In accordance with this statement, there's a little bit of everything at the farmers market, including certified organic products.
Many shoppers come for the crisp fruit and veggies, and the flavorful meat and cheeses, but there is quite a varied assortment of other goods as well. From cakes and pies to kettle corn and other specialty snacks, you're sure to get your fill of treats here.
On top of that, shoppers can peruse plants and greenery from local nurseries, as well as homemade jewelry, soaps and other crafts. To see a full list of vendors, visit the Omaha Farmers Market webpage.
What Should I Bring With Me?
In addition to bringing along a shopping list, it's suggested that shoppers come prepared with reusable bags or other carrying containers. If you're planning on grabbing a few items at the market, it's also helpful to pack a small wagon or push cart.
Are Pets Allowed?
Shoppers are welcome to bring their dogs along, however, it must be friendly and kept under control on a short leash at all times. Pet parents should also pack extra doggie bags for cleanup.
Farmers Market Locations and Times
The Omaha Farmers Market is open three days a week at several locations around the Omaha area. Both cash and credit cards are accepted at all three markets.
Arksarben Village – 67th & Center
Sundays from 9 a.m. to 1 p.m.
Charles Drew Health Center – 2915 Grant St.
Wednesdays from 3:30 to 5:30 p.m.
Old Market – 11th & Jackson St.
Saturdays from 8 a.m. to 12:30 p.m.